A588 GrA Weathering steel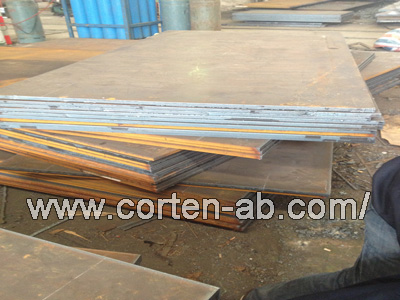 Product : A588 GrA Weathering steel
Standard : ASTM A588/A588M
Brand : Shanghai Royal Industry
A588GrA general 8mm ~ 200mm thick, A588 series high weathering steel bridge structures including A588GrA, A588GrB so on. Such steel by Cu, P, Cr, Ni and other alloying the metal substrate surface to form a protective layer, which has a high resistance to atmospheric corrosion.
A588 GrA Weathering steel Chemical composition :
Steel

C

Si

Mn

P

S

Cr

V

Ni

Cu

A588GrA

≤ 0.19

0.30-0.65

0.80-

1.25

0.040

0.050

0.40-0.65

0.01-0.10

≤ 0.40

0.25-0.40
A588 GrA Weathering steel Mechanical Properties :
Thickness

Yield Strength
ReH[N/mm2]transv.min

Tensile Strength
Rm[N/mm2]transv

Fracture Elongation[%]transv. min.

Notch ImpactEnergy1)Ch Vcomplete samplelongitud. min [J]

0mm-50mm

345KPa

485KPa

18

-

-
A588 GrA Weathering steel application : Building and construction machinery, such as mining and drilling rig used in various types of construction, power shovel, electric wheel dump trucks, mining vehicles, excavators, loaders, bulldozers, various types of cranes, coal hydraulic support and other machinery and equipment and other structure. Various weathering structures (particularly for industrial atmosphere), the bridge support structure and other aspects.
A588 GrA Weathering steel are our main products, we can supply A588 GrA Weathering steel with good quality and fast delivery at best price. And we are always keep more than 1000 tons A588 GrA Weathering steel in stock. Welcome to visit our factory!